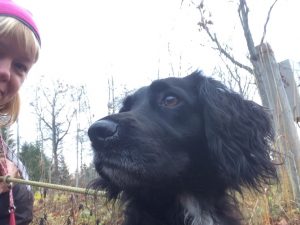 Today I'll tell you about the day that Tassla and I made our debut in Open class. We drove to Norrtälje and back, a nice little round trip of about 620 miles to flush one bird. This hobby of ours is cumbersome, time consuming and expensive… But working on hunting is perhaps the most fun I've had in dog training, making it undoubtedly worth it.
The Open class for Spaniels means that you let your dog hunt for, find, flush and retrieve a (newly shot) bird. When competing in obedience I always view competing as a check on how well our training has panned out. I feel the same way about field trials. Trialing provides me with information about what has been working in our training and which parts we need to continue working on. But my goal is always to keep going – towards new challenges and new goals. Our first goal is to get a first prize in Open class.
I was once again lucky to have a good judge who seemed to root for the different teams, which is always nice. This time it was a judge in training, Torbjörn Augustinsson, who judged (with judge Rolf Näslund in the background). He started out by giving some general, kind and encouraging pieces of advice such as "pay attention to your dog, don't rush, mind the wind and good luck", which made me feel safe and focused. He also gave us a lot of encouraging comments after our trial was over. It was nice to leave with a good feeling when the trial didn't quite go our way.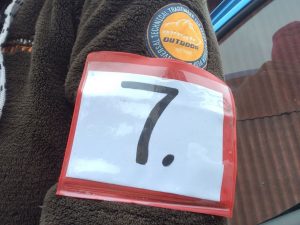 The grounds we covered were nice, mixed forest terrain with some firs and raspberry shrubbery. The winds were a bit difficult when it was our turn, it kept changing directions, and we started out with a headwind that then turned into a tailwind. Tassla hunted very well, even if I found her a bit wide in the beginning. She hasn't been a very energized hunter, but the training during the fall has really paid off.
I had received three pieces of advice from people I listen to when it comes to hunting, and those were: "Stay in the bubble", "focus, focus, focus" and "breathe". I had declared loudly to the people in my company during the day that my most important job was to be completely focused on my dog and read her signals every second. That, minding the wind and make an effort to work her as silently as I could was my assignment.
I did manage to work Tassla pretty silently. I only blew a couple of turn whistles. I wasn't nervous, in other words I was breathing. (I'm never nervous when I've started, only beforehand.)
We got to show off how well we can hunt in a tailwind, that was a great deal of fun! Tassla has always been good at hunting in a tailwind and I've learnt how to work her confidently in that situation. She runs straight out, perhaps 10 yards, hunts towards me on the one side, runs back out and hunts the other side. I then move to grounds that we haven't covered and we repeat what we just did. I almost messed up and didn't realize that we had tailwind the first couple of yards…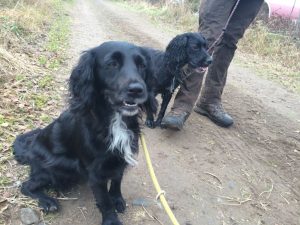 Just before we start out, one of the shooters (whom also happened to be the land owner) tells the judge that we should hunt ahead to a small gravel road and then turn right. When I see that we're approaching the road after a couple of minutes, I forget what I'm doing. I begin thinking "Here's that road, should we turn right now?" I glance over my shoulder and ask the judge, and in that same second Tassla flushes a bird – furthest out in the tailwind hunt. When I look ahead again, the bird has already taken off and Tassla has the time to begin to run before I've even blown the whistle. DARN, that was quick! When I blow the stop whistle she runs on for a few yards before stopping. She had time to cross the road and run on a few more yards, so I'm guessing around 7-10 yards.
GOOD DOG SHAME ABOUT THE HANDLER!!!
If I had focused on her 100 percent, I would hopefully have spotted that she was about to find game – the hunting pattern changes radically the seconds just before – and she doesn't offer a sit as the bird is flushed, in other words, she doesn't normally sit without a cue even if it has happened a couple of times. If she had, my timing could have been better – perhaps I could have moved in closer and I could also have blown the stop whistle at the correct time.
BUT. It still might not have worked out. For a while back in August, Tassla believed that flushing meant first flushing, then running on for a bit and then sitting down. With clever training I managed to shorten about 10 yards to zero really quickly – but the behavior might resurface in challenging situations. It wouldn't have surprised me if it had resurfaced here.
Anyway, I got to hit myself hard in the head, put Tassla back on leash and end our trial.
Me being anxious to make a mistake and beginning to take responsibility for something that REALLY isn't anything that I need to do as handler – like which way to go (just walk on until the judge tells you otherwise, for crying out loud!) – I really don't like that in myself. In the beginning of competing in obedience, I did the very same thing. Instead of being 100 percent focused on supporting my dog so that she could do her job, I began thinking about was I was allowed or not allowed to do, and began focusing on the steward instead of on my dog. When it comes to obedience, I've done the work, and I no longer do that. I guess it's partly about experience, but it also has to do with my mindset.
So, I'm learning the hard way. Even if I thought that I understood my task of focusing solely on my dog, I couldn't handle the distraction of hearing about instructions of where to go, etc.
But both Tassla and I had a really fun day out, and I was really encouraged by the judge's comments regarding Tassla's "wonderful hunting, paying great attention to you and very good at finding game". It was "a zero prize with a gold star". Nice!
We're going to keep training, focusing on even more control and 100 percent steadiness as the game is flushed. There are no shortcuts!

Retrieving for All Occasions - Foundations for Excellence in Gun Dog Training