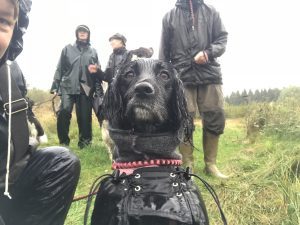 I wanted to share the story of Tassla's first trial of last season with you, so here goes 🙂
Tassla is in Novice, which is the class you can enter if you have passed the water trial. The next class up is Open, which is the highest class. In Open, you can collect legs to become a Champion, should that be part of your ambitions. The Swedish Championships are held in this class. In Novice, the dog should hunt, flush and retrieve warm game.
Lately, I've had issues with Tassla's steadiness. She's been running in after about 50 % of the flushes. It took me a while to figure out what the problem was. Then I realised that the times she was steady was when she was in hand. Focusing on the flushing was the wrong way to go, but it was the route I tried for a couple of weeks. I shifted focus to keeping her in hand while hunting.
So I went to the trial with butterflies in my stomach, since we hadn't quite solved the "keeping her in hand" part. I needed a bit of luck in order for us to make it. I HATE when luck has too much to do with the result. I mean, I like being lucky, it's not that. I just don't want our results to depend on it.
This was the day the heavens decided to open up and simply chuck down water over the small area where the trial was being held. The rain was absolutely crazy. And did I mention the gale? All the pheasants said "yuck!" and ran for the woods. Some dogs still flushed birds, but some had the misfortune of pushing running pheasants ahead of them, and that's not an easy thing to have happen.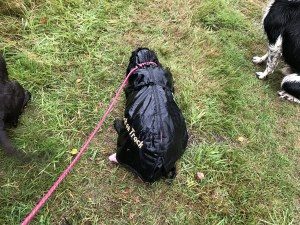 We were going out as the second team and got to start with a blind retrieve of a newly shot pheasant. Sometimes if a dog is disqualified because of for example lack of steadiness but game has still been shot, the next dog gets to start out with a retrieve. I thought it was a fun way to begin our trial and Tassla is great at retrieving, so I wasn't nervous.
The judge was kind (they can choose to be generous in situations like this) and moved us up a bit, starting us out about 20 yards from the pheasant. Tassla responded well to my cue to go out and ran straight out, picked the bird up nicely and ran back to me at good speed. All was well until she was about half a yard away from me, where she dropped the game (!). And my reaction was to move backwards as one would in training, and then I SAID "get it" out loud and whistled. And that was that, disqualified. When working a spaniel you don't get to talk to your dog (you might not get thrown out for doing so, but you might lose a first price) and you do NOT get to encourage your dog to retrieve anything – THAT is a definite disqualification. I just did it, without thinking about it.
The judge said "Next time, go for swooping in and grabbing the game – I would have let you off with that." Well, swooping in and grabbing things are not on my list of what a delivery should look like, but naturally, that is what I should've done! It looks like I really do have to learn the hard way and try out all the mistakes that you can possibly make as a handler… Oh well. This time, I was in good company. All seven entered dogs were disqualified…
I immediately tried letting Tassla retrieve the warm game and she cleared three great deliveries to hand. But I think she was a bit overwhelmed by the warm game – we hadn't trained with warm game for a year. That, and perhaps an unsuitably high arousal level in the trial environment, is probably what got to us this time.
But now trialling season is under way and I'll start at all the trials we're allowed into. My plan is to be in the trial for more than 15 seconds though… (We beat our own record of disqualifying after a minute this time!)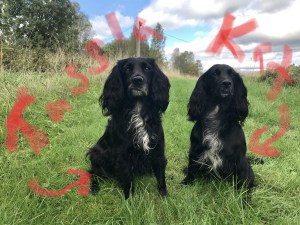 In order for me to get more experience and become better at handling at trials, I've had the great fortune to train and get to trial with a friend's dog this autumn. He has too many dogs and Kat, as the dog is called, now lives with her foster parents quite close to where I live. They are travelling a lot right now, so Kat will be living with me. Kat is in Open and so I'll enter my first Open class on Friday. It's not her first one though; she's been around the block a couple of times. It feels like a great privilege to get to work a dog who's further along in the process and that I can take to trials in order to gain some more experience in trialling.
I used to work with horses and have tried having a more experienced animal to learn from before. It's a real treat.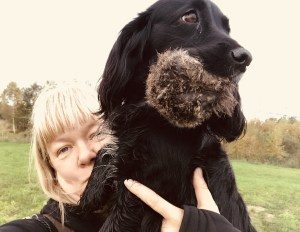 Right now, Kat and I are getting to know one another and working on becoming a team, so we'll see what challenges we'll face when we start in our first trial. But I'm very happy to get to work not just one, but two dogs this autumn. I'll learn a lot, that's for sure! Both from my mistakes and – hopefully – from my good decisions.

Retrieving for All Occasions - Foundations for Excellence in Gun Dog Training