When we wrote the book "Retrieving for All Occasions" it was very important for us to spread the knowledge that it is possible to do gun dog training with positive reinforcement methods. (With positive dog training we mean that you train your dog without physical and/or verbal corrections that can be perceived as unpleasant for the dog).
We want to continue to spread the knowledge that this is possible, we feel that it is almost a mission for us – to spread the word! That's why we would like to publish an interview with Philippa Williams who is an excellent instructor and dog trainer. She's also the breeder of Elsa's Goldie Seeker and Åsa's Labrador Tod, and she's written the foreword of Retrieving for All Occasions. In this interview she will also give you a couple of tips about gun dog training. Enjoy!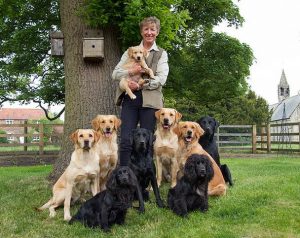 Name: Philippa Williams
Lives: Yorkshire – United Kingdom
Experience with dogs: My background was horse based as my mother had a Professional Show/ Livery yard and Welsh Pony Stud. From the age of four I was entering in lead rein classes & later with my mothers and customers horses. From the age of seven I started to compete in competitions with our own dogs & then went on to top level obedience & agility competitions; competing with GSD's, Collie's, Beagles, Goldens & Labs. I was the first in the UK to compete at the highest level with a Beagle – breaking all myths and boundaries that had been put on these dogs – and then moved from the traditional style of training to the kinder method of training to achieve amazing results. My interest in Gundogs started back in 1994.
Company: Castlemans Gundogs 'are' Dogs for Life
I was a college lecturer at Hartpury College in Gloucestershire for many years where I taught Animal handling & training, Grooming & Kennel management, Having the hunger to gain knowledge led to the birth of my company DOGS FOR LIFE in 1994 when we began to take pet owners on new journeys with their dogs – taking people on Residential Dog Holidays, also giving lessons covering Essential Training, Agility, Flyball and Gundog work. However, my company is now known as Castlemans Gundogs 'are' Dogs for Life as we now specialise in Gun Dog Training – using reward based methods. Taking people on residential Gundog Holidays, giving private lessons and small group lessons. www.castlemansgundogs.co.uk
Dogs: My dogs have ranged from GSD's who mainly competed in Obedience & a little Agility, Collies – Agility & Flyball, Beagles – Obedience & Agility, Jack Russell's – Terrier work. At present I have Labrador's, Golden Retrievers & Cockers which work throughout the winter picking up on shoots & Field Trials. In the summer we do working tests & do some fun Agility. I have made up two FTCH's & trained a further five to become FTCH's.
Why do you do gun dog work?
I have a strong passion in breeding and training my own line of Gundogs Castlemans Retrievers) but was involved from the beginning of the Levenghyl line of Labradors (owned by myself and past partner – making many decisions on the breeding lines, health matters and the training of the Levenghyl dogs that you have seen up to 2014)
So from bringing a new puppy into this world – and watching it grow and develop, taking it through its training education and career into a fine working dog – using the dog for what it is bred for is one of the most rewarding experiences for myself.
What is the philosophy behind your training method?
Having realised and been fascinated by the "psychology" of how dogs learn, I felt this needed or had to be explored further and hence why my initial company DOGS FOR LIFE was begun. One must never rest on your laurels, pushing and striving forward looking for new knowledge and training methods is most exciting and rewarding but one of the key objectives is to teach people how dogs learn, and how to communicate with their dogs, while opening their minds to the general well being of their four legged friends, all with reward based methods. If we only influence one person – that is one more happier dog! Even today we always learn something new… and have many 'light bulb moments'…..
Why do you train the way you do?
Evidence has shown that if you understand how dogs learn, and you can understand their body language, look and listen to what they are telling you, acknowledge that at every level and stage – then you can take a dog forward without the heartache and frustration in an enjoyable and rewarding way. To be able to share the knowledge with owners who come with their dogs and watch them grow together in such a positive way is a very magical moment.
Are there any disadvantages?
Yes, because there are still many people out there sceptical or using the 'old fashioned' methods of training that cannot take on new learnings and especially on how dogs learn – and therefore you can be seen as odd, quirky or even mad! But you have to be strong and true to yourself, your beliefs and your heart to carry on…. and sometimes you can feel absolutely exhausted with some people….
What role models or sources of inspiration do you have?
John Fisher… Author of "Why Does My Dog", DogWise", "Think Dog". Jean Donaldson The Culture Clash & Karen Prior. Sue Armstrong Homeopath vet.
How do you regulate the level of arousal in your dog training?
One has to work with each individual dog no one dog is the same (no one owner is the same), learn to recognise the signs at every level, read the signals, understand why those signals are occurring – timing is crucial to how you deal with it (self-control, observation skills)… you need to be in the right frame of mind, have the time and the patience!
What's the most important thing to consider when training a dog from puppyhood to excellence in hunting?
Gosh one can speak for hours on this one – but from the moment your puppy is born you can begin to influence (watch puppy culture DVD) how you handle it, the exposure to different smells, noise – so many things. Your foundations are paramount for any dog working or not – how your dog learns!! is the key and how you teach your dog too…quick recovery.
If you are only allowed to choose one thing that you think is most important to train in order to get a dog to perform great on field trials or in the gun dog training, what is that? (What is on the top of your list?)
Wow now that is question!! All your obedience should be in place before you ever think about gundog training so straight lines, hunt a piece of ground, mark, stop, relationship with your dog!
EXTRA INFORMATION:
ACHIEVEMENTS:
I compete and judge in Field Trials – demonstrate at Crufts/CLA and other Game Fairs (see video beblow)
In the 2002 season her efforts resulted in her Golden Retriever Dog, Castlemans Beaver becoming Top Golden Retriever Dog in England, Scotland & Wales, gaining the most points in Field Trials.
In the same season her Golden Retriever Bitch Castlemans Classic Mood was awarded by the United Retriever Club, Top Dog or Bitch gaining the most points in Field Trials and Working Test
Her Golden Retriever Bitch Castlemans Crunchy Lima also won the title for the most successful brood bitch with progeny gaining the most points for the season.
2005 – Trialling her working cocker Secret and gaining various different awards (and whom is a famous celebrity in her own right at Crufts. See You Tube Demo's)
In 2008 Philippa qualified for the International Gundog League Championships with Levenghyl Isle of Aaran (pet name – Monkey) and trained and handled by her.
In 2010 Monkey was made up to a Field Trial Champion
In 2011 she ran Tweedshot Thistle of Levenghyl (Mango) in the International Gundog League Championships at Nevill Holt and gained a Diploma of Merit. Mango was the youngest dog competing at just 2&1/2
In 2012 Mango was made up into a Field Trial Champion & she was only 2 ¾ yrs of age.
2013 – Mango has qualified again for the IGL at Lauder in Scotland.
2014 FTCH Tweedshot Thistle of Levenghyl (Mango) qualifies for the International Gundog League Championships for the third time, held at Windsor Great Park by kind invitation of Her Majesty Queen Elizabeth on 1st, 2nd & 3rd December.
This is just a brief look at what Philippa has achieved personally over the years to date.
Below you can see Philippa's gundog display at Crufts 2015.
Thank you very much for this interview, Philippa! Good luck with all training and trials in the future.
We hope that many of you have been inspired by the interview with Philippa. We will continue to interview interesting dog trainers. Please let us know if there's anyone you'd like us to interview!

Retrieving for All Occasions - Foundations for Excellence in Gun Dog Training