I start to train heelwork as soon as I get the puppy home and continue practicing practically every day of the dog's life.
What I do first is to reward the dog for voluntarily seeking out my left side and then I gradually increase the time it should walk there. First, I want to create an understanding that it pays to be at my left side and to follow me, then I add endurance and distractions. This is a perfect moment for a clicker and to train on the walk – reward the dog when it voluntarily walks by your side.
From the very beginning, I am careful to give it a release cue when the dog is allowed to run away so that it does not leave the heelwork position when it feels like it. I also make sure that the dog follows me and not the other way around. I walk away, click and reward when the dog seeks out my left side and then turn quickly in the other direction so it will be a bit of a challenge for the dog to keep track of me.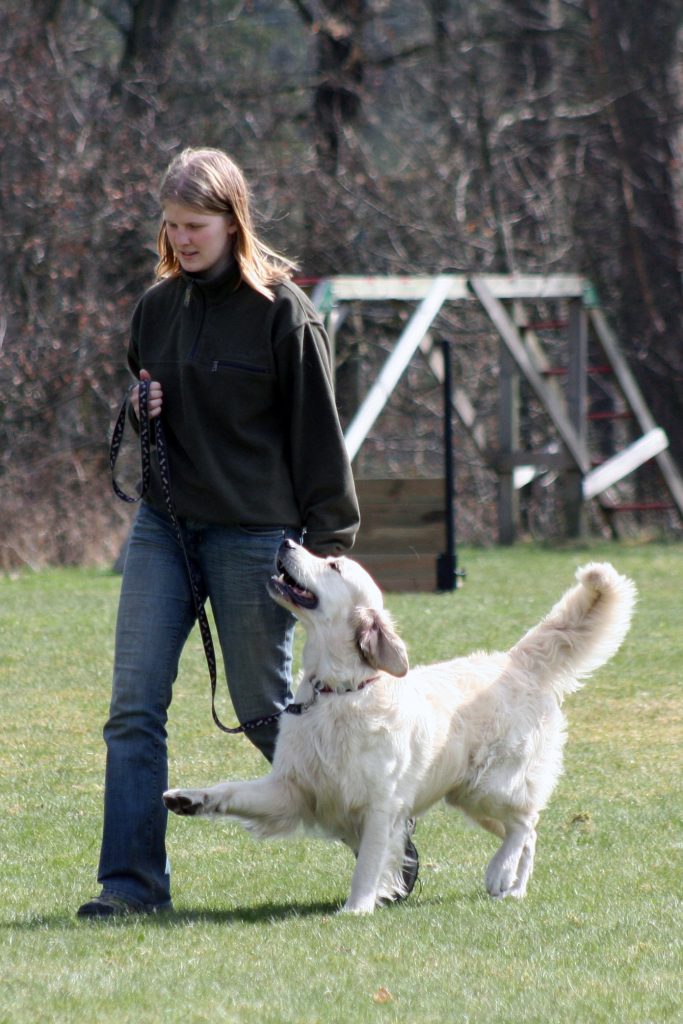 If the dog looks at me here it doesn't matter – later on I will work on it looking ahead when heeling instead. Should it happen to look up at me on a test or a hunt in the future, it is only good – because often they tend to forget that the handler is involved when everything is so exciting in front of them so then I am just happy if the dog happens to look at me a little now and then. ?
The important thing to remember in the beginning is to reward often – that's what tells the dog that it is doing the right thing! When you've clicked and rewarded, try to click and reward again before the dog disappears from your side or has time to put down his nose to sniff the ground.
Today's exercise
On your next walk, count how many times your dog comes back to you and voluntarily walks by your side!
Train heelwork at least once. (Note how many sessions and minutes of heelwork you do. Train what you and your dog need – it doesn't have to be the training in the blog post of the day.)
Feel free to tell us and others about your training by commenting on the posts on our website and/or Facebook page.
If you haven't participated in the challenge from the start, read here to find out how it works: Day 1: Heelwork challenge.
---

Retrieving for All Occasions - Foundations for Excellence in Gun Dog Training